THE INTERMOUNTAIN WEST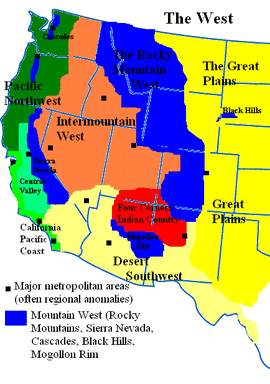 The Intermountain West is a region located west of the Rocky Mountains and east of the Cascade Mountains and Sierra Nevadas. There is a great range of elevations within the Intermountain West, which produces a variety of climates, temperatures and ecosystems. Group 5 chose a variety of topics to research within this region. The topics of our final projects are listed below.

Arizona Water Use and Agriculture - Elizabeth E.
Idaho's Treasure and Magic Valleys - Geoffrey S.
Butte, Montana: "The Richest Hill on Earth" - Stephanie R.
Mining in Interior British Columbia - Patrick P.
The Mojave Desert - Lindsey S.
Forest Industries - Jacob F.
The Columbia Basin Project - Ruth B.
Women's Political History in the Intermountain West - Paul H.
National Parks of the Great Basin - April S.
Community content is available under
CC-BY-SA
unless otherwise noted.