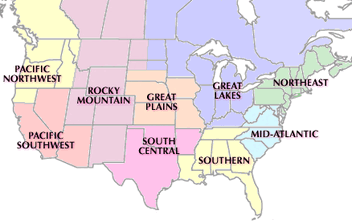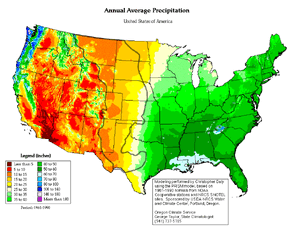 John Hudson defines the Western Great Plains and Rocky Mountains as a narrow region encompassing the eastern halves of Montana, Wyoming, Colorado, and Texas as well as the western halves of Kansas, Nebraska, South Dakota, and North Dakota (Hudson, 2002, pp. xvi-xvii). While cultures and histories may be different throughout the region, its unpredictable climate is one factor that binds it together. Settlers occupying the area in the 19th and early 20th centuries dealt with frequent droughts, wide temperature ranges, and high winds leading to natural disasters such as dust storms that made establishment in the region difficult. Annual precipitation in the region typically varies between 10 and 25 inches, while east of the 100th meridian in the Midwest, rainfall ranges from 25 to 50 inches (Stewart, 2009).

The pages below, all snapshots from around the region, highlight many of its similarities and differences regarding culture, industry, and geography.
Western Great Plains and Rocky Mountains
April M - Cultural Change in the Hispano Homeland
Nicole F - The Platte River Valley
Jenny F - The Colorado Rocky Mountains
Kristin R - South Dakota's Sioux Reservation
Justin M. - Agriculture in Nebraska
Shannon M-- Forestry in Montana
Jessica G. - Yellowstone National Park
Dale B - North West Texan Cattle
References
Hudson, J. C. (2002). Across This Land: A Regional Geography of the United States and Canada. Baltimore: The Johns Hopkins University Press.

Stewart, R. (2009, July 24). The Dustbowl and Aftermath. Retrieved June 4, 2010, from Ocean World Website: http://oceanworld.tamu.edu/resources/environment-book/dustbowlandaftermath.html
Community content is available under
CC-BY-SA
unless otherwise noted.